X
VISIT THE INTERACTIVE EXPERIENCE
Dacor
says "Let the show begin"
with its head-turning MODERNIST line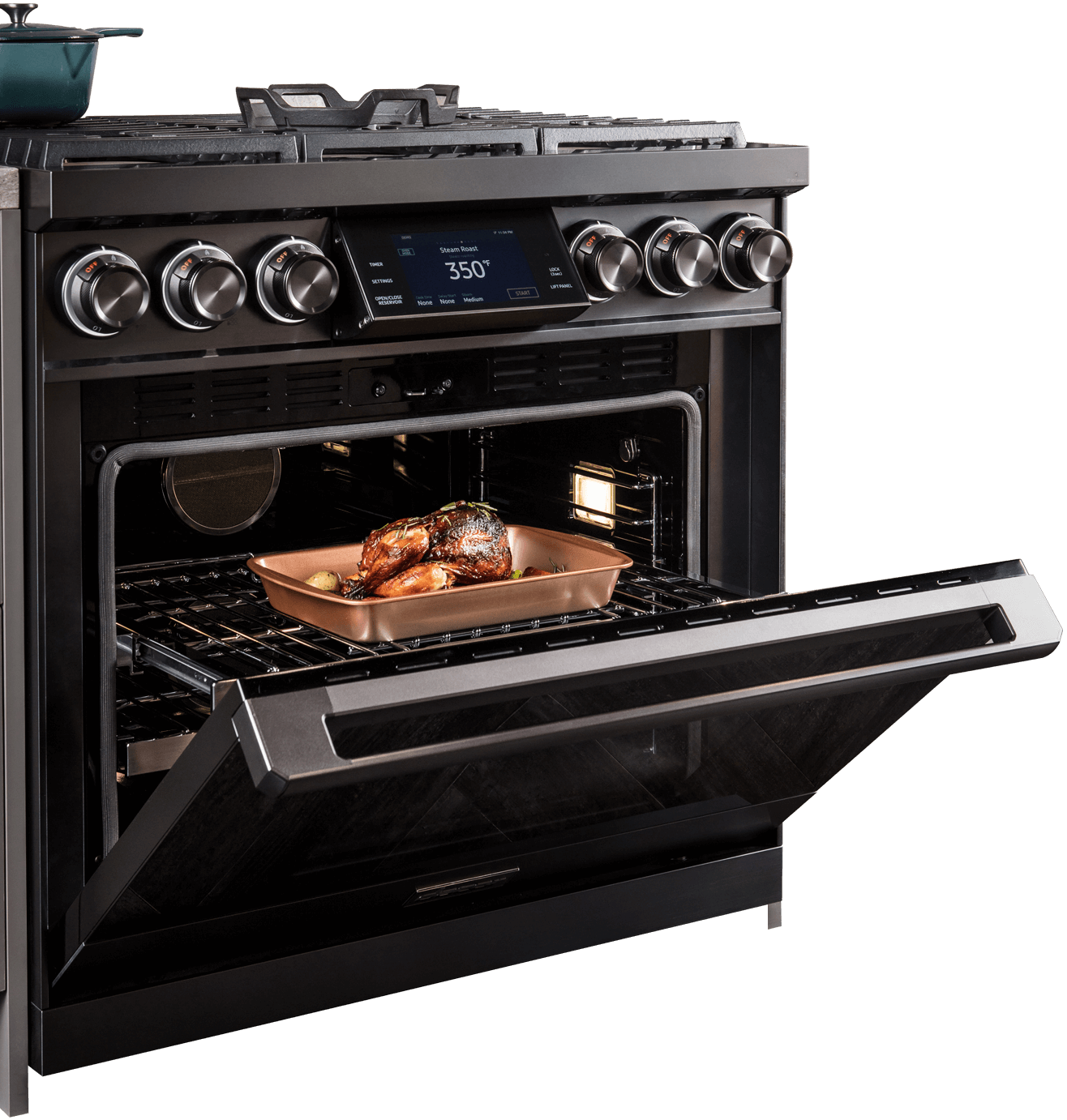 Sleek. Stylish, Stunning.
Samsung set a goal to become a global leader in the rarefied premium home appliance sector and proved its seriousness with the purchase of Dacor in 2016. By acquiring the southern California-based legacy brand, the electronics giant quickly made its way into the upper echelons of the luxury kitchen appliance arena. Industry wonks thought that the purchase made sense at the time because, until then, the premium appliance market had lacked a technology-focused competitor. The Korean goliath brought that technology in spades, reflected in the 2017 release of Dacor's Modernist line.
You may have seen the new upscale lineup during Dacor's big marketing push last year. The products debuted with all the bells and whistles you'd expect from a top-tier appliance line. But does the equipment live up to the hype? Let's take a closer look and you decide.
The Heat is on
To measure the impact level of Dacor's new offering, there's no better place to start than with that attention-grabbing 48" Modernist Pro Dual-Fuel Steam Range. Although indisputably a new creation in its own right, it does seem to bare some loose evolutionary influences from Dacor's Discovery range. That being said, this is about where the similarities end. The high-drama graphite stainless steel (do not call it black stainless steel, because it's not and Dacor will tell you that) handles and sleek finish blend seamlessly with virtually any kitchen design or color tone. Definitely a serious contender in that pro-style "celebrity chef" category, the range also offers a 6-burner, 15" cast-iron grate platform with a removable griddle and wok ring that the appliance maker expects to be a major hit with consumers. The inescapable suggestion here is that there's some serious cooking ahead.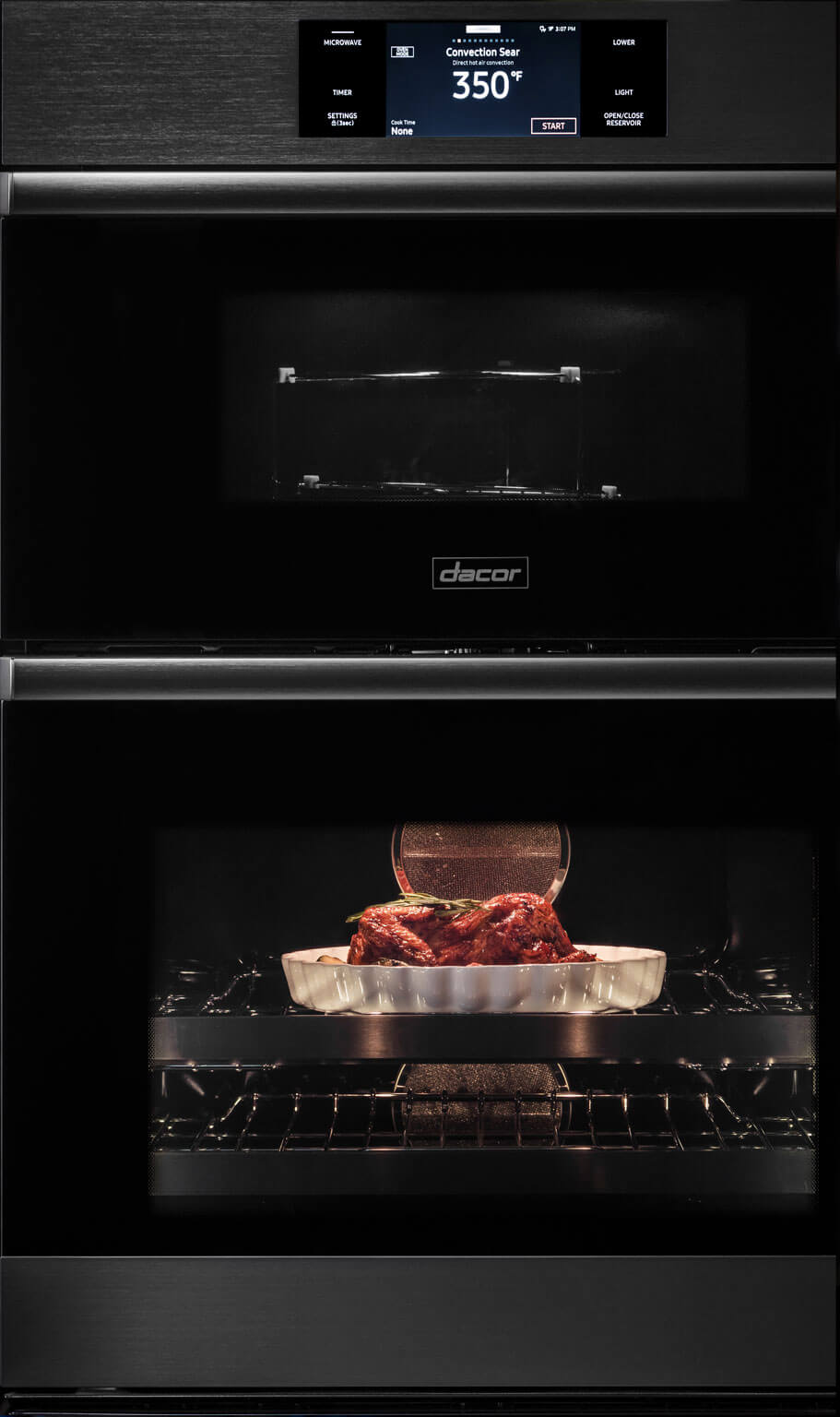 Does Dacor's
new lineup live up to the hype?
If first impressions count, then we have to admit, everything about the range screams "SHOWSTOPPER," a sexy creation designed for the modern entertainer. From its illuminated knobs and Wi-Fi-enabled tilt display, to the internal oven studio lighting, the Modernist range is meant to be an appliance that is not only highly functional, but visually STRIKING.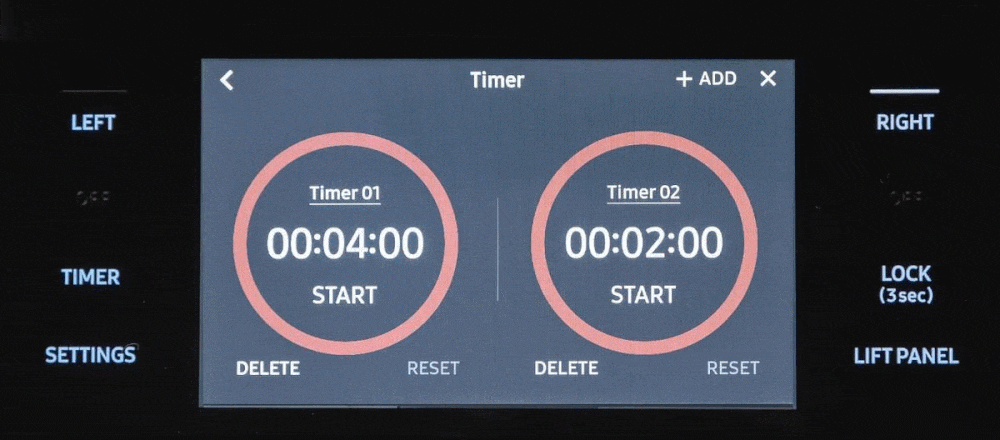 The 7" full-color Touchscreen control panel was clearly designed with maximum ease of use in mind for "gen digital." Its controls and settings are relatively simple to navigate, and the intuitive operation reflects thinking technology at work.
The SmartThings app allows users to program, control and monitor timers on the range, or turn the ovens on or off. Lighting inside the oven can also be adjusted for those who want to watch the food as it cooks.
Induction Seduction
A kitchen DYNAMO in its own right, the Modernist induction cooktop will appeal to many home chefs, by its sheer subtlety and simplicity. Available in 36" and a more compact 30" version, this offering announces itself with a decidedly minimalist style and Bluetooth connectivity.
But don't mistake the sleekness…this is a muscular power lifter, offering 9 fully-operational induction cooking zones, firing up to a 4,800 Watt boost for rapid boiling and concentrated searing. Full-on cooking recipes and videos to support them demonstrate that, besides power, there is plenty of personal tactility for chefs of all persuasions.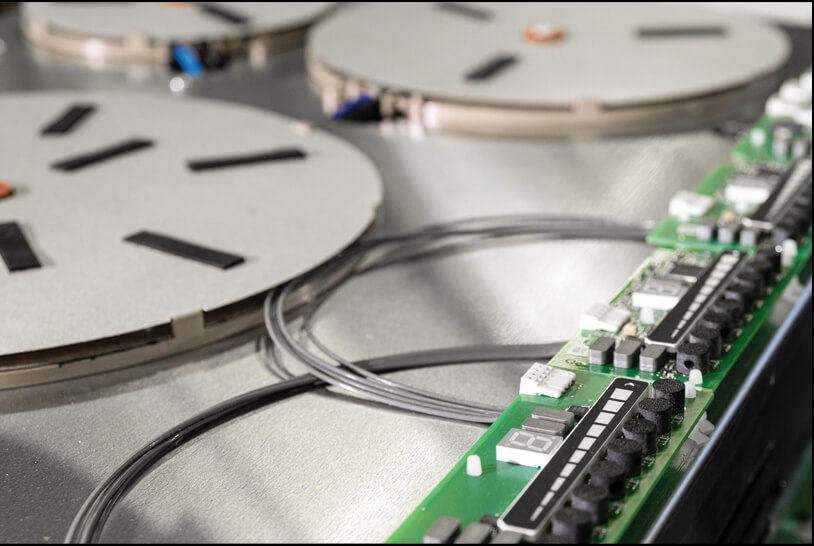 And if speed is your guilty pleasure, take note of nine flexible cooking modules, capable of heating and cooking with lightning quickness. A simple finger swipe enables you to accommodate pots and pans of virtually any size or shape and bring water to boil in scant minutes.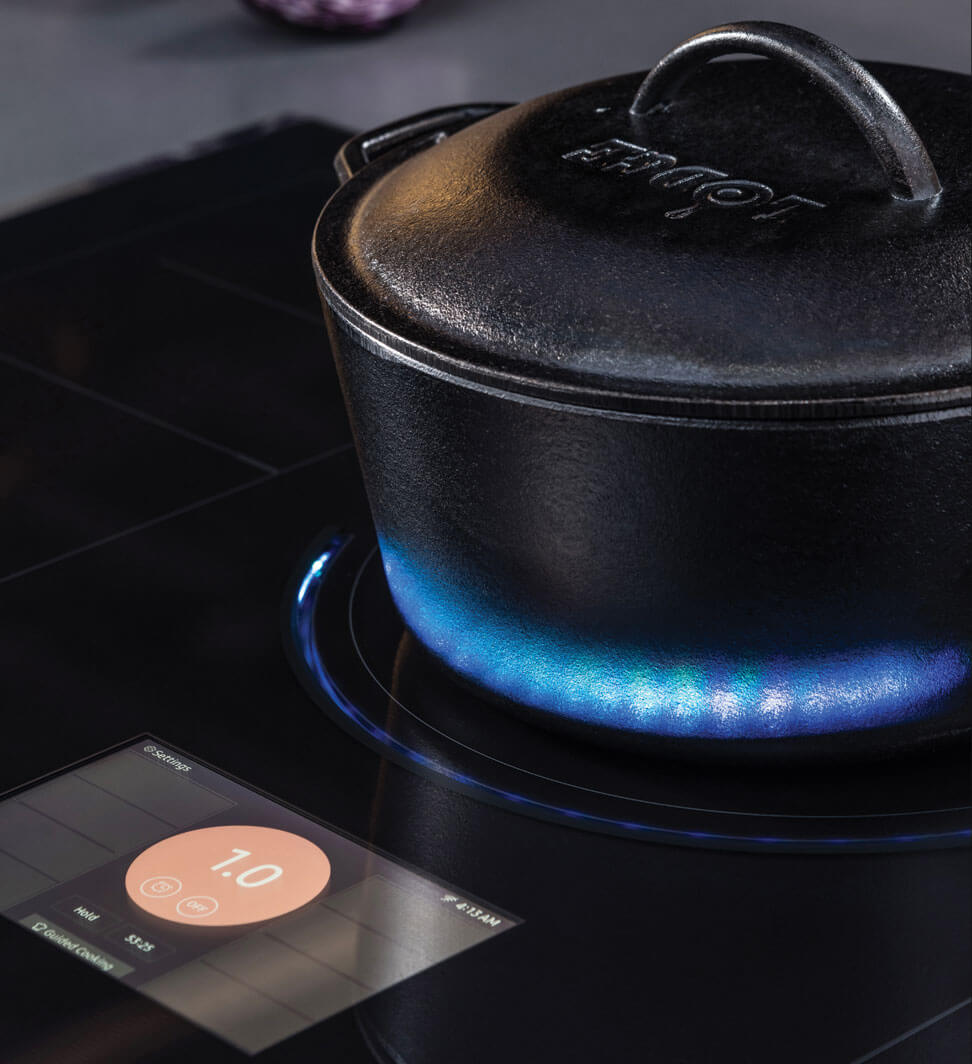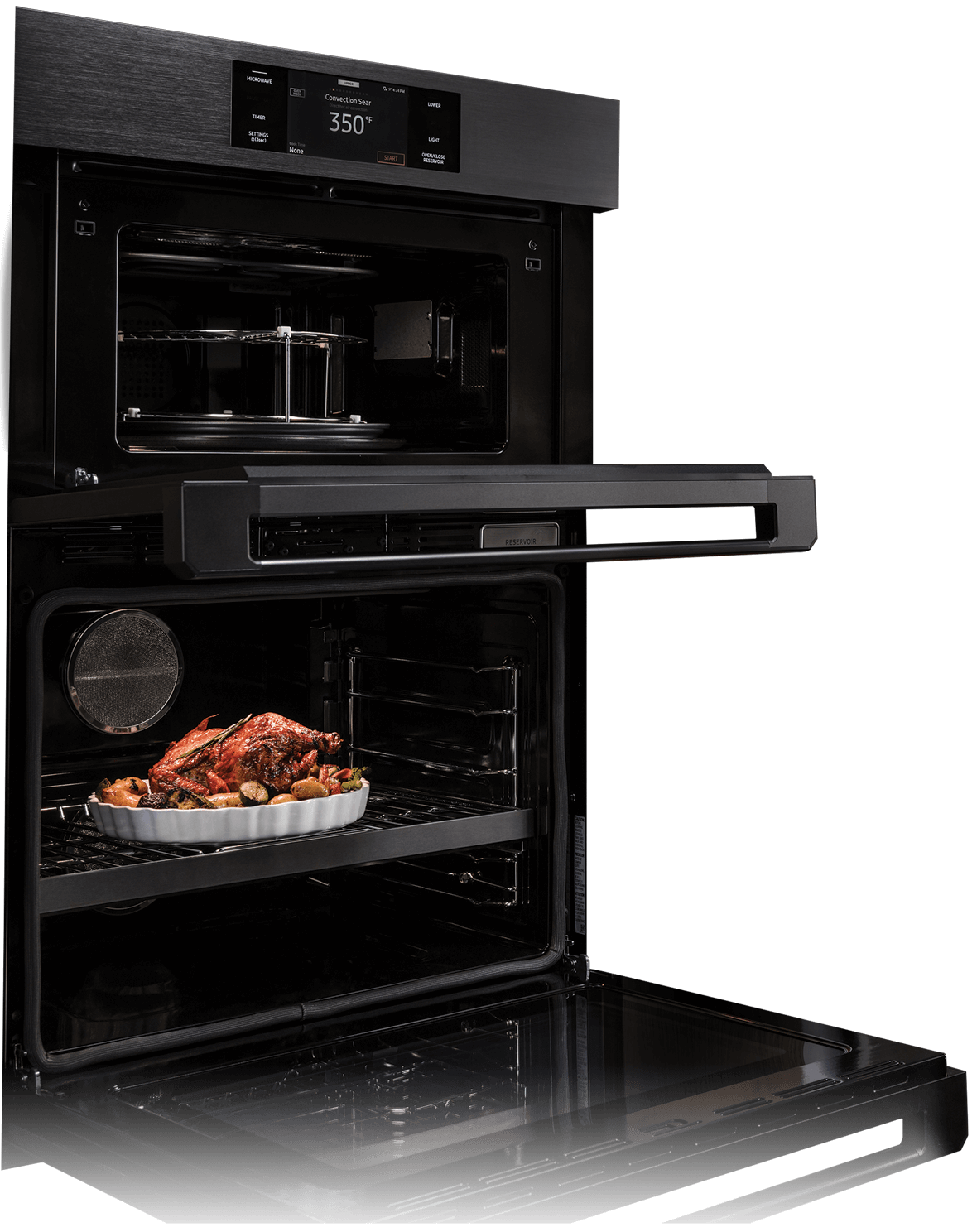 The collection's convection wall oven, available as a 30" single wall unit, double wall or combination wall oven, at first blush, seems to clear the performance bar with plenty to spare. Whether you're angling for meats that are juicy on the inside, with a brown and crispy exterior, or donning your baker's toque in the quest for a light, fluffy-centered artisan bread, the results appear to be much more than simply "sizzle."
In fact, cooking seems light years removed from grandma's casseroles, thanks to a full-touch culinary command center featuring pre-programmed settings and expert cooking advice. According to Dacor, even the novice can expect better consistency and faster turnaround, due to balanced heat distribution across the entire oven.
A Peek Behind
the "Graphite Curtain…"
During a rare insider tour of Dacor's City of Industry factory, we got a chance to view the making of these sleek new products. This provided a closer look…with the coupling of Dacor and an electronics giant…at what the blending of TWO DISTINCT companies can produce.
"Though Dacor and an electronics giant have somewhat different cultures, we share basic core ideas," noted Scott Kim, Dacor's Director of Products and R&D. "We are both dedicated to quality, service and innovative technology, so we are comfortably walking down that path together."
At the same time, Dacor has tried to remain true to its own storied past and products that have attracted a considerable number of fierce loyalists over the years. To that point, the company's re-invention of sorts did not ignore its more classic lines. When Dacor introduced its Modernist series, it also launched its new Heritage line, which is more in keeping with the company's foundational products. Kim sees something more complementary than competitive in their looks.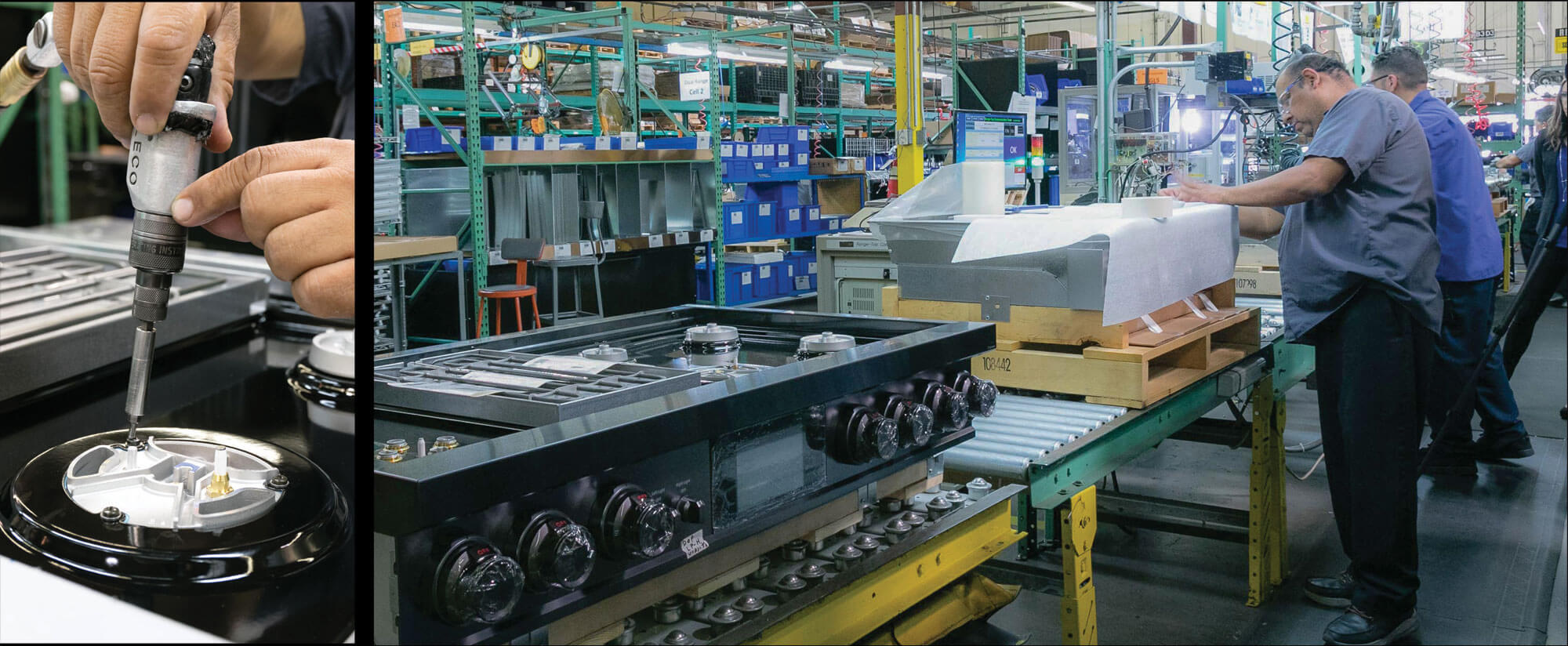 "Rather than two distinct series, with their own unique audiences, you could say that Heritage is our foundation – keeping with the style that has served as our signature over the years," Kim explains. "Our Modernist collection simply builds upon that, emphasizing special new design ideas and processes, such as our new graphite color. So instead of standing apart, the two – more correctly – stand side by side."
Kim stresses that the company and its Modernist series are not just about technology, simply for technology's sake. It has to support the customer in his or her everyday activities.
"If the innovation is not truly helpful, then it's technology that really shouldn't be there. We don't want the customer to merely exclaim, 'Wow!' Rather, we'd like them to say, 'Oh, I get it.'"
There's a Chill
In the Air…..
That sort of thinking seems to play out intuitively in what Dacor calls its Column Refrigeration. These lean, streamlined cooling systems…with their LED-illuminated stainless-steel walls and glass accents…present food storage as an art form. But there's much more there than simply meets the eye. PRECISE COOLING™ technology that keeps temperatures constant within .5 degrees C and improved insulation are included to keep food fresh and flavorful. A dedicated compressor and evaporator maintain dry freezer column conditions, so there's less freezer burn and a longer food lifespan. And that's technology consumers can understand.
A Case…or Two…of Wine Envy
Modernist also sports a new column for wine mavens that Dacor pitches as a full-size wine cellar. While not exactly the cooler at Paris' famed La Tour d'Argent eatery, there is space for up to 100 bottles, in three individually cooled zones. A triple layer of argon gas, PRECISE COOLING™ and four different humidity sensors help protect your precious nectar from the elements and keep temperature fluctuations within ±.3°F. To even the most finicky of oenophiles, this is storage worth at least an earnest toast.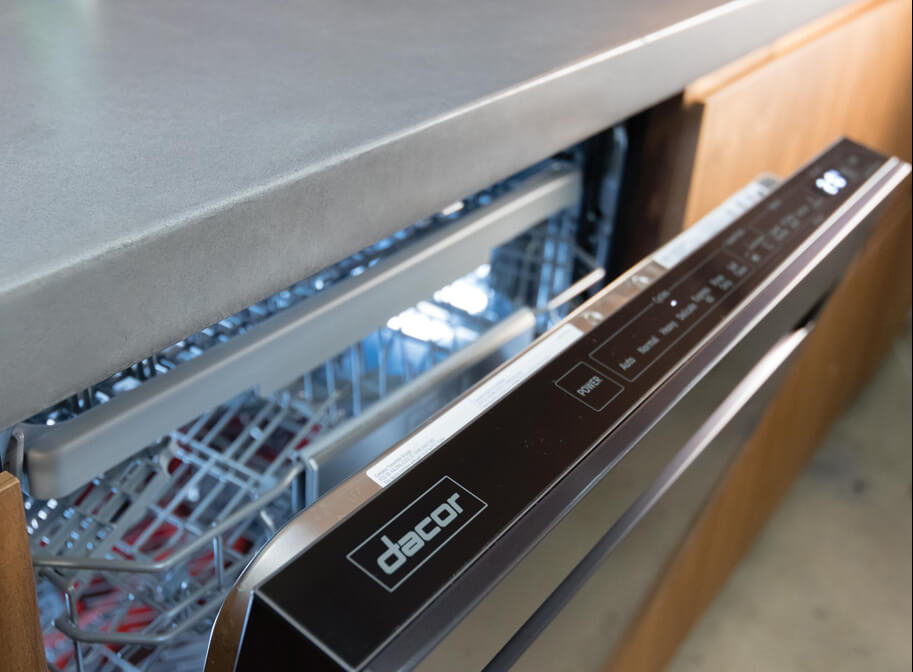 Food Preparation – The New Performance Art
Dacor's ambitious Modernist collection views food preparation as an all-encompassing performance. And it goes all out to set the stage for a culinary TOUR-DE-FORCE. Clearly, the company has isolated its target and designed its lineup to that selective upscale niche. So perhaps it's best to sit back and let the show begin.
"Our core consumer is the modern entertainer, someone who desires a place to connect, create and share great food and moments," says Kim. "To meet that need, we offer spectacular tools that incorporate innovative and intuitive technologies, along with the meticulous hand craftsmanship that has been our foundation for 55 years."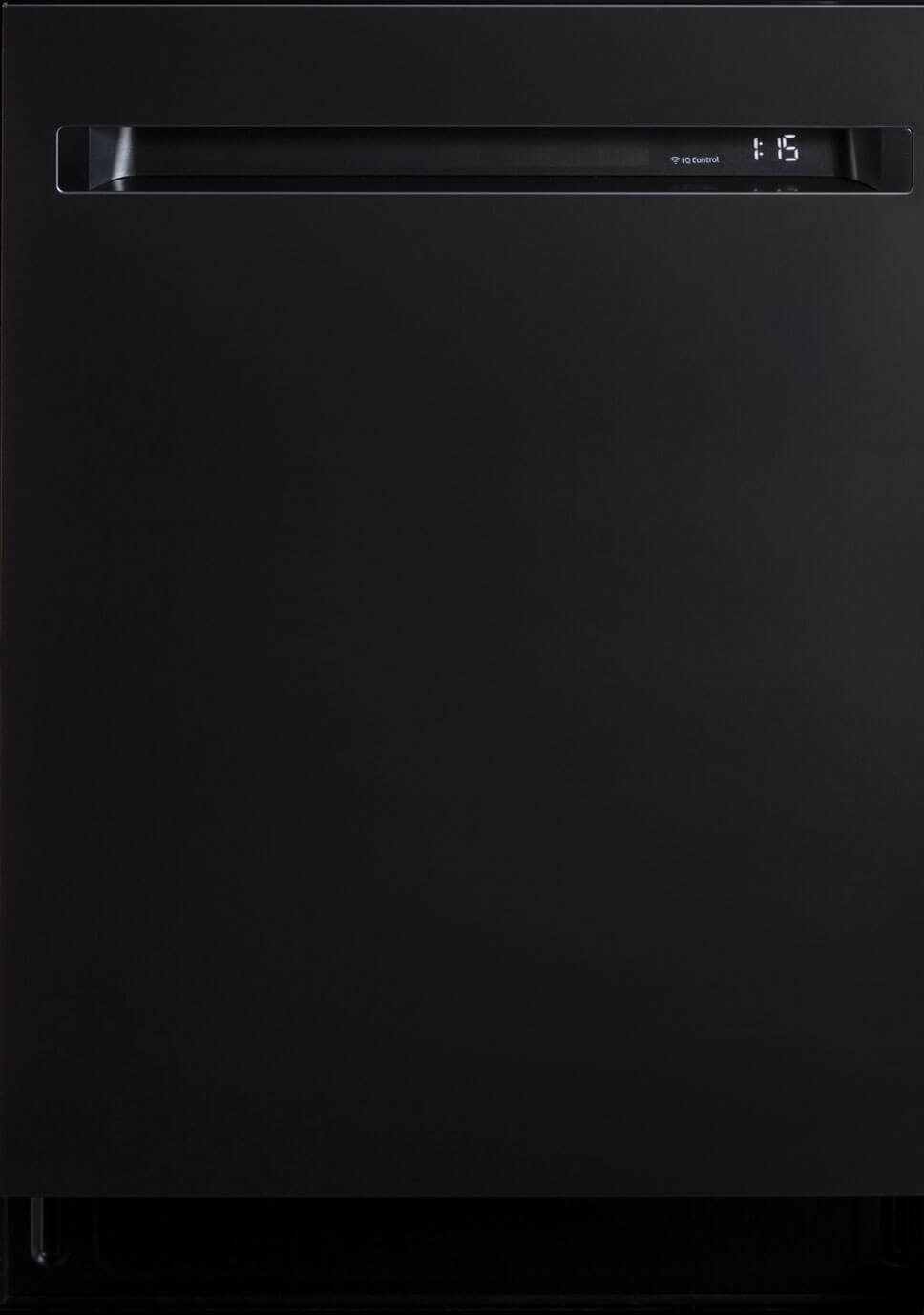 A Stand-Up Cleanup Performance
With food preparation and wine preservation fully accounted for, Dacor turned its attention to the ultimate cleanup…with a 24" high-capacity dishwasher offering space for up to 14 place settings. While it's sometimes difficult to gush poetic about scouring off food stains, this nimble cleaning machine certainly elicits its share of approving smiles. Dacor touts the device's even high-pressure water distribution and five strategically located nozzles, designed to ensure heavy-duty, top-to-bottom and corner-to-corner washing. At the end of the cycle, the door disengages automatically to release residual steam – reducing water spots and streaks.
The visually striking Modernist line is a solid entry for the upscale appliance market currently dominated by Sub-Zero/Wolf/Cove, Thermador and Miele. Dacor's tribal knowledge and half-century plus heritage in the luxury appliance space, with backing from one of the world's most sophisticated technology powerhouses, should deliver a formidable one-two punch in leveling the playing field.
One thing appears certain…Dacor seems intent on bringing a new technological edge to the luxury appliance domain. This is territory reserved for the modern mindset, those individuals who realize that real entertaining is an acquired skill. Dacor's new breed of equipment seems ready for the challenge of teaching them a whole new set of tricks.